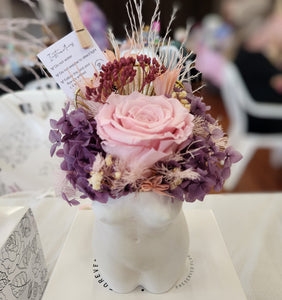 This is a beautiful handmade vase that represents beauty and gratitude. Our arrangement is stunning to be displayed in the home or as a gift.
Select from our options of a preserved rose colour of your choice.  Do let us know if you have a preferred colour theme for the arrangement.
Dimension of the vase: approx. 10cm (H) x 7cm (W)
Note: The dried flowers are subject to availability and season.  Each individual order is carefully arranged by hand in-house, and it is our commitment to ensure that the quality of our work is maintained each time. Due to this, we have specific timeframes for shipping and order cut offs for all our products - please check our FAQs.